Through growing our highly successful network of businesses, Just Shutters now covers more than 175 towns and cities in the UK. Our existing businesses have enjoyed great financial and lifestyle success.
Each taking on a business for different reasons; from wanting to escape the nine-to-five working for someone else, to wanting to build something for their family and future! Here is a taste of what you could expect as a Just Shutters Business owner.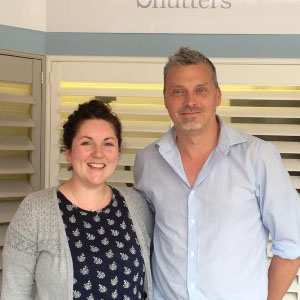 "I love interiors and home improvements – property renovation is a big passion!!"
Charlotte & James Chenery
BUSINESS Owner Oxfordshire
Georgina & Simon Broadhurst
Georgina & Simon Broadhurst started their Just Shutters Business after spending the last 20 years working in media advertising sales in central London for large television networks.
They both knew that they wanted to start their own business, and since they had recently started a family, this seemed like the most secure option. After discovering Just Shutters and arranging a meeting at business support, they were immediately taken by the highly professional and passionate team.
The husband and wife team get an enormous sense of satisfaction from making the homes of Surrey look even more beautiful by fitting shutters and are proud to be ambassadors of the brand.
Just Shutters North Wales, The Wirral & Cheshire
Ken and Angela have lived between Mold and Wrexham for over 30 years.
The husband and wife team have a history of working in accounts, customer service and retail – building up a solid knowledge of business and the local area.
Wanting the freedom of being their own bosses, they started their search for the perfect business opportunity. After finding Just Shutters at a business show they knew that the opportunity was for them, especially due to the incredible amount of business support!
Hayley and Terry Lancaster embarked upon running the Just Shutters Essex business because Terry had reached the 'glass ceiling' in his career and the couple wanted to build something for their own future.
On track to blast their overall targets, Hayley and Terry have shown huge commitment to their business and are reaping the rewards. Here they discuss their motivations and successes as Just Shutters Business owners.
They say: 'Overall we got a very good feeling about the people, how they looked after their own. We liked the brand and knew if we liked it we can sell it. The training was first class. The office support, the fact the customers call and the phone gets answered, the brochures get sent out takes the pressure off us.
Our experience has been overwhelmingly positive. The support we get is overwhelming. Would I recommend a Just Shutters Business? Yes – that's it, there's nothing else to say.'
Just Shutters Hertfordshire
This husband and wife team have all the makings of the ideal Just Shutters Business owners! Both Tom and Brooke worked for Tom's family business, which specialised in the installation of plantation shutters, in Florida for many years.
Tom is an all-round shutter expert with a passion for both the creative and hands on side of the business, with the drive and skills it takes to be successful in the field.
The market is much different in Hertfordshire than it is in Florida, however with Just Shutter's guidance they have been able to get to grips with their franchise and thrive!
Charlotte & James Chenery
Just Shutters Oxfordshire
Charlotte and James have a vast amount of unique experience between them.
Before embarking on their Just Shutters journey, James had been a retail manager and had run the family business (a nursery) whereas Charlotte owned a successful beauty salon. After having children and selling the salon, the husband and wife team were on the lookout for a business opportunity they could take on together.
When they found Just Shutters they knew that it was the perfect opportunity for them! Charlotte said "'I love interiors and home improvements – property renovation is a big passion!! I knew James would be fantastic at the hands-on part as he has a good eye for detail and is a bit of a perfectionist!"
The figures do not constitute either a forecast nor guarantee or form part of any contractual offer. It must be stressed they are produced for guidance purposes only and have been taken from averages from the Just Shutters network. There is no guarantee that you will achieve these figures and nor is it intended that you should rely on these figures as a warranty or guarantee.
*Start up working capital will be required in addition.
Proud to be affiliated with